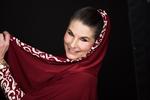 Yasmin Henkesh
YASMIN HENKESH

CEO and Founder of Serpentine Dance Studios -
Yasmin Henkesh has always had dancing in her blood. A dedicated performer, teacher, trainer and workshop instructor, she has over 45 years of cabaret and folkloric Middle Eastern Dance experience. A native of Washington D.C., she danced professionally in Paris, London and Egypt alongside Arabic superstars such as Sabah, Walid Toufiq, Ahmed Adawia, Mohammed El Aizabi, Hassan Abou al-Saoud, Khamis Henkesh, Mona Said, Shoo Shoo Amin and Sahar Hamdi. In Cairo, she appeared nightly at The Auberge on the Sharia al Haram (before it was burned down) and at the Holiday Inn Giza, in addition to countless weddings and private functions. She also studied Arabic at the American University of Cairo and researched Egyptian trance dancing.

After returning to the Washington DC area she taught Egyptian style belly dance at Joy of Motion until she opened her own studio, Serpentine Dance, in Bethesda, Md. She is known for her lively, invigorating classes and widely acclaimed workshops, with their depth of research, grasp of the region's dance history and easy-to-follow movement explanations.

In 2005 Yasmin created Sands of Time Music to share with her students the rich, multifaceted music she fell in love with in Egypt. The Henkesh Brothers, from a long line of Cairo's Golden Era Mohammed Ali Street musicians, agreed to help and can be heard on many of her label's albums (all on Amazon). Sayed Henkesh also recorded many of Cairo's best folkloric artists to help preserve the genre before it disappeared forever into the amalgam of World Music. Yasmin wrote extensive liner notes (40 page booklets) for most of these albums, which include the history and translation of each song. This eventually led to her first book, Trance Dancing with the Jinn, published in 2016 by Llewellyn Worldwide. She is currently writing a second book for Llewellyn.

After being diagnosed with breast cancer and experiencing the physical and mental difficulties of treatment, Yasmin created a unique form of Restorative Dance based on the low impact, body friendly movements of Middle Eastern dance. She offers these classes, affectionately dubbed "Jiggle Therapy," as well as trance dance and traditional belly dance in her Bethesda studio.
---
Serpentine Communications, Inc. | 4930 Saint Elmo Ave. Bethesda, MD 20814 |

Tel: (301) 654-2224 | info@serpentine.org